As a woman you will get judged more times than you should be, by what you wear and how you carry yourself in the workplace. It is always important to look professional but friendly and approachable. You need to look like you can get the job done, rather than you're just killing time until you can find someone to mind you.
Some key things that every woman will need to get her through a work week are:
No-show underthings - these range from slips to camisoles to bras w/o raised patterns and underwear that will not result in visible panty lines. For heaven's sake ladies, wear a bra with a little padding so the whole world doesn't see just how pointy your nipples can get.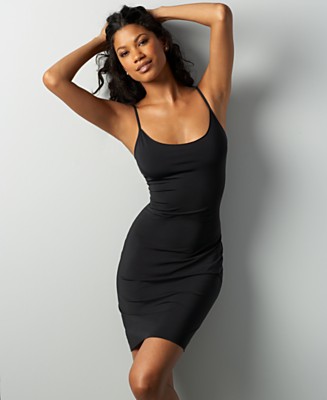 Sensible shoes - I am not talking about granny shoes. Sensible depends on the woman wearing it. If you can deal with a three inch, pointy-toes heel all day then by all means go ahead, if you require a lower heel then get one and if heels just seem impossible to you then, un-embellished neutral flats can be your staple.
The knee-length pencil skirt - for the work place a pencil skirt must at the very least toe the line of being appropriate. It should be fitted enough to show that you're a woman but loose enough to show that you're a lady. In other words, when you look at your back-view in the mirror, there should be a faint line that outlines your bottom but if you can see the outline of each 'batty jaw' or the dimple in each cheek then it is too tight. If you're still not sure if your skirt is too tight then two simple test are - 1. whether you can tuck your shirt or blouse in w/o seeing the fabric from the outside of the skirt or 2. whether your hands can pass through the waist band of the skirt to the bottom of your hips.
A good skinny belt - yes, women need belts too - think of this as your safety net between being able to keep eye contact with your boss and introducing him/her to crack city every time you get up or sit down. Additionally, a belt helps to polish a look and pull it together in a way that a top and bottom can never do. Belt your cardigan, belt your dress. Belt anything to look more polished. A simple leather/leatherette belt will do sans studs or chains.
A button up shirt - very important that the shirt fits well around the bust so that there are no gaps between the buttons and you're not flashing anyone glimpses of your bra; and that it is long enough that it won't ride up to expose flesh at your belly or back if you reach up to comb your hair or get something from a shelf. You want to look like you're eager to work not work.
A feminine blouse - these are quite frankly a girl's best friend. They look equally good with pants as they do skirts and they make even the boxiest suit jacket look softer. I personally like mine a little roomier as well because it creates a nice contrast with a pencil skirt. Tie-front blouses are now really popular but a neat trick is to just get a scarf in a similar tone and tie it around your neck in a loose bow and pin it where the seam meets the neck of your blouse.
A corporate sheath dress - these are for the days when you're expected to attend the Christmas cocktail party or to accompany the boss to meet a client for dinner after work or on the days when you have a late day at work and an early dinner date. Dresses are versatile and can be worn alone, with shirts underneath, with a jacket or cardigan on top or even with a skirt to change up your look.
Tailored pants - you want these in a fabric that will not cling if you have a typical Jamaican bottom. Why? Even if the men appreciate the view of the full outline of your batty jaws, the women in your workplace will think you're trashy. So respect them and respect yourself and get something in a thicker fabric like wool.
A versatile jacket - step out of the box and instead of getting a traditional blazer get one with a shawl collar or with an interesting liner for when you roll up your sleeves or one with a shortened collar. It will add interest to a basic look and help you to stand out
A watch - yes you need a watch for those days when you're phone dies and being on

time with a deadline or for a meeting could make or break your time at that particular organization. A watch in more traditional colours like gold, silver, black, white, brown or navy is appropriate for the corporate world while others with more interesting detail can be worn in more creative work spaces. My personal advice is to stay away from rubber watches or anything a high schooler could be seen wearing.
A structured bag - unstructured bags or tote bags that can't zip up deflect from a well put-together outfit. Many places in Kingston sell bags like these for about $2000 and up. If you want to splurge on something name brand then make sure it is not something with the logo splashed all over. You want people to be looking at you and not your handbag right? In the same note, having a zippered bag is neater and more polished than one where everyone can see what you're toting around with you including that errant sanitary napkin and that note reminding you to replace your birth control. Get it together ladies!
What do you need in your work wardrobe? Leave a comment below and let me know. In a few posts I'll be discussing what I carry in my work bag to make sure I'm prepared for just about anything.
Till next time,
*Jane